Friday, July 25, in the beautiful Santissima Annunziata square, an evening of screenings with Middle East Now on the occasion of the summer arena Apriti Cinema! From 9.30PM, on the screen the Israeli short "Auschwitz on my mind" and the feauture "Only in New York – Peace After Marriage", directed by the Palestinian "Woody Allen" Ghazi Albuliwi
At the third edition of the Florentine summer arena APRITI CINEMA! in Piazza Santissima Annunziata, organized by Quelli della Compagnia in the framework of the Estate Fiorentina, Middle East Now festival will present a special evening of screenings: Friday 25 July, from 9.30pm (free entrance), it will be on the screen the short film "Auschwitz on my mind", by the young and talented Israeli director Assaf Machnes, and to follow the feature film "Only in New York – Peace After Marriage" by Ghazi Albuliwi, the director with Palestinian origins considered the Woody Allen of the arab world. Two titles that were presented at the last edition of the festival, and that in those current very difficult moments talk about Israel and Palestine, their culture and society, and about stories of lives from and on the Middle East, through the creative lens of the cinema: a perspective that instead of creating barriers and contrasts encourages to share common ideas and lives.
Programme of the screenings – 9.30pm (free entrance)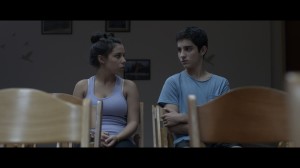 Auschwitz on my mind di Assaf Machnes
(Israel, Poland, UK, 16') vo. hebrew, subtitles: Italian, English
Auschwitz on my mind follows the journey of an Israeli teenager, trying to win the affection of a girl from his class, while they both travel on a school trip in Poland, between Holocaust memorials and death camps.

Only in New York – Peace After Marriage di Bandar Albuliwi e Ghazi Albuliwi
(France, Turkey, USA, 2013, 86') vo. Arab, Englis, subtitles: Italian, English
Arafat Sulliman – a thirty something year-old Arab New Yorkerl – lives at home with his parents who are desperate to marry him off to a Muslim bride. In order to get rid of his porn addiction he starts attending Sexual Compulsives Anonymous meetings in the city. Comes Kenny – a single New Yorker – who tries to help Arafat offering a Green Card Marriage! But with an Israeli girl.