On the occasion of the Estate Fiorentina 2022 [Florentine Summer], the open-air cinema returns to the Piazzale degli Uffizi with the summer arena Apriti Cinema, presenting a rich program of films in one of the most exclusive locations in the world (free admissions).
Middle East Now Festival is also back with a special program – MIDDLE EAST NOW SUMMER TALES – a selection of films and documentaries from the Middle East in absolute preview for the Florentine audience. On five Tuesdays of July – 5, 12, 19, 26 July – at 9.45 pm, with free admission (limited seats), films in the original language with subtitles in Italian and also in English.
The Apriti Cinema program is organized by Quelli dell'Alfieri, with programming by Cinema la Compagnia – Fondazione Sistema Toscana, in collaboration and with the support of the Uffizi Galleries and is included in the program of events of the Florentine Summer of the Municipality of Florence.
Program of the screenings
Tuesday 5 July – 9.45pm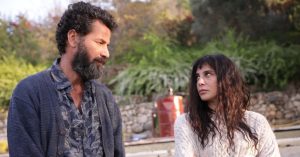 COSTA BRAVA LEBANON by Mounia Akl
(Lebanon, France, Spain, Sweden, Denmark, Norway, Qatar, 2021, 106 ') v.o. Arabic, Italian, English subtitles
The nonconformist Badri family escaped the pollution of Beirut by seeking refuge in the utopian mountain house they built. But one day a landfill is built right on the land next to them, bringing the waste and corruption of an entire nation to their doorstep. Along with the refusals, doubts also increase, whether to leave or resist, undermining their idyll and family unity.

Tuesday 12 July – 9.45pm


ALL-IN by Volkan Üce
(Turkey, Belgium, Holland, France, 2021, 80 ') v.o. Turkish, Italian, English subtitles
Two young and shy boys, one Turkish and the other Kurdish, start working at the Nashira Resort, a gigantic all-inclusive hotel on the Turkish Riviera. Ismail is 17 and dropped out of school to earn money for his family. Hakan is 25 years old and the youngest of 12 children. They both entered the hotel business to move forward in life and to learn English. A whole new world opens up for them – between parades of brightly colored swimwear, an overwhelming abundance of food and the absurd demands of management – that will change their lives forever.
Italian première

Tuesday 19 July– 9.45pm


AMIRA by Mohamed Diab
(Egypt, Jordan, United Arab Emirates, Saudi Arabia, 2021, 98 ') v.o. Arabic, Italian, English subtitles
Amira, a seventeen-year-old Palestinian, was conceived with Nawar's semen, stolen from the prison where he is held. Although their relationship has been limited to prison visits since her birth, her father remains her hero. The absence of her in the girl's life, however, is amply compensated by the love and affection of those around her. However, when the failed attempt to conceive another child brings up Nawar's sterility, Amira's world is turned upside down.

Tuesday 26 July – 9.45pm


FEATHERS OF A FATHER by Omar El Zohair
(Egypt, France, Holland, Greece, 2021, 112 ') v.o. Arabic, Italian, English subtitles
A passive mother devotes her entire life to her husband and children. She is forced into daily, repetitive and mundane chores, she has withdrawn as much as possible into herself. When a spell goes wrong at his 4-year-old son's birthday party, an avalanche of random nonsense hits the family. The magician transforms her husband, the authoritarian father, into a chicken, and this is how her mother is forced to take care of the family, at the same time moving heaven and earth to bring her husband back. As she tries to survive in this situation, she undergoes a process of total and absurd transformation. A story of ferocious social satire, ironic laughter and disturbing oddities, which won the Grand Jury Prize at the Cannes Film Festival.
Italian première